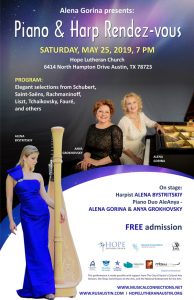 Piano & Harp Rendez-vous musical event presents a world class harpist Alena Bystritskiy and a Piano Duo AleAnya (Anya Grokhovsky and Alena Gorina). We invite you to enjoy classical selections of Schubert, Liszt, Tchaikovsky, Rachmaninoff and others. The event will take place on May 25th at 7 PM at the Hope Lutheran Church in Austin.
This event was made possible by the City of Austin's Cultural Arts Division.
FREE ADMISSION
About the artists
Russian born, Alena Bystritsky, studied harp with Professor Marion Hofmann at the University of Music and Theater Rostock in Germany.
Alena Bystritsky is a winner of major international harp competitions: 2007 " Verband der Harfenisten in Deuscthland e.V.", 2007 the Franz Josef Reinl competition, and 2005 the "Deutsche Bahn" competition.
Mrs. Bystritsky made her appearance with Berliner Symphoniker Orchestra, RBB Symphony Orchestra, The North German Philhamonic Orchestra, Neubrandenburg Philharmonia Orchestra, and Goettingen Symphonia Orchestra.
Piano Duo AleAnya
Alena Gorina & Anya Grokhovski are pianists with extensive concert experience as both soloists and chamber musicians who came together to share their love of piano ensemble repertory. Their programing is greatly influenced by their cultural and educational roots. Alena was born, raised, and educated in Belorussia (formerly, the Soviet Union) and Anya in Moscow, Russia. Needless to say, Russian music holds a special place in the hearts of Duo AleAnya. Both Alena and Anya hold doctoral degrees in piano performance; Alena from University of Texas at Austin and Anya from the Gnessin Russian Academy of Music in Moscow. Currently Alena is a lecturer at Texas State University, San Marcos and Anya is the Artistic Director of Musical Bridges Around the World, a non-profit cultural and educational organization based in San Antonio, Texas.
Supported by Russian Speakers Society of Austin and Musical Conncetions