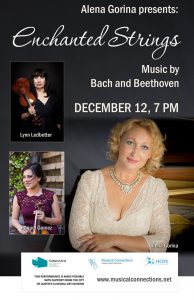 Join us for the exciting "Enchanted Strings" classical music performance night. We are eager to celebrate with you Beethoven's 250th birthday! International and Austin based virtuoso musicians came together to bring the best musical selections to your home.
During this pandemic time, we are going to live stream classical music for you from the Hope Lutheran Church in Austin.
Live stream performance will take place on Saturday, December 12th, at 7 pm.
This event is supported in part by the Cultural Arts Division of the City of Austin Economic Development Department.
Program 
Concerto for Two Violins and Piano in D Minor, S. 1043 ………….. J. S. Bach 
Vivace
Largo, ma non tanto
Allegro

Sonata No. 7 in C Minor, Op. 30, No. 2 ……………………….. L. V. Beethoven 
Allegro con brio
Adagio cantabile
Scherzo. Allegro
Finale. Allegro
About the artists 
Dr. Lynn F. Ledbetter, a native of Austin, Professor of Violin at Texas State University, holds the Bachelor of Music Degree in Violin Performance from the University of Houston, and the Master of Music Degree in Violin Literature/Pedagogy and the Doctor of Musical Arts Degree in Violin Performance from the University of Texas at Austin.
She has been affiliated in a principal or concertmaster capacity with the Musica Bella Orchestra of New York, the Broadway Bach Ensemble of New York, the Arlington (VA) Symphony, Arlington Philharmonic Association, the Santa Fe Symphony, the Orchestra of Santa Fe, the Santa Fe Opera, Serenata of Santa Fe, Caritas Chorale and Symphony of Idaho, the Brazos Valley Symphony Orchestra, the Lubbock Symphony/Chamber Orchestra, the Roswell Symphony, the Buffalo Commons Chamber Music Society, the Grand Teton Music Festival, the Wisconsin Chamber Orchestra, the Bedford Springs Festival, the Meridian Symphony, the Jackson Symphony, the Duluth-Superior Symphony and the Austin Symphony. For four years, she served as Concertmaster of the Rochester Symphony Orchestra and as First Violin with the Rochester String Quartet.
Dr. Ledbetter has performed and continues to concertize as a soloist/chamber/orchestral musician in several ensembles throughout the United States, Bulgaria, Turkey, Canada, China, Europe, and Mexico. In addition, she is in great demand as an adjudicator for various national/state/international concerto and chamber music competitions. She is affiliated as featured artist/teacher/chamber music coach with the InterHarmony International Music Festival in Germany and Italy each summer and is on their teacher roster for the InterHarmony International Music Academy. In 2018, she was named to the American String Teachers Association's "Studio Teacher Committee" and is scheduled to be a presenter at the 2019 ASTA Convention in Albuquerque. She will also present a session at Texas Music Educators Association Conference in San Antonio in February 2019.
In 2016, she was named to the American String Teachers Association's "Collegiate Committee". She recently finished work as Chair of the Violin Committee for the third edition of the American String Teachers Association "String Syllabus". She has held the office of President in the Texas Chapter of the American String Teachers Association, and served as a member of the American String Teachers' Association's "Studio Instruction Committee", of which she now serves as its chair. She was the featured master class clinician at ASTA's National Conference in Providence, RI in February 2013, and was named the recipient of the prestigious 2016 Phyllis Young Studio Teacher of the Year Award given by the Texas Chapter of the American String Teachers Association.
Raquel Gomez has been an active violin performer and educator since 2011, when she began her violin studies at the Conservatory of music and Dance in Monterrey, Mexico.
Raquel holds a B.M. in Violin Performance, and a M.M. with a concentration in Violin Performance and Pedagogy from Texas State University in San Marcos. Raquel has performed with several professional orchestras, such as UANL Symphony Orchestra, OCFAMUS and Coahuila Philharmonic Orchestra.
While a student, Raquel served as the Concertmaster for the Texas State Symphony Orchestra, Texas State Chamber orchestra and Texas State opera orchestra. As a graduate student, Raquel was awarded the First Violin seat for the Texas State Graduate String Quartet and scholarships.
​Over the past decade Raquel has actively participated in numerous master classes, workshops, most notably with Alexander Markov, Charlie Siem, The Attacca Quartet, Amy Schroeder and Kaiko Tokunaga.
Originally from Minsk, Belarus, pianist Alena Gorina is a Senior Lecturer at the Texas State University at San Marcos. Dr. Gorina holds the Doctor of Musical Arts Degree in Piano Performance from the University of Texas at Austin, a Master's Degree from the Bowling Green State University, and the Diploma of the Belarusian National Conservatory. Her principal teachers over the years have been Nancy Garrett, Maxim Mogilevsky, Vladimir Dulov, and Ariadna Guzhalovskaya.
In Belarus, Ms. Gorina taught at the College of Music and the Belarusian Academy of Music, where she performed with various instrumentalists and served as an accompanist between 1998 and 2000. Her admiration of twentieth-century music brought her to Vienna, where she participated in master classes with Emmy Henz-Diémand. In 2001, the Bahrain Music Institute invited Alena Gorina to lead their piano department. Dr. Gorina's recognition in America began after a live broadcast as a soloist on WGTE FM 91 in Toledo, Ohio. She frequently appears with the "Musical Bridges Around the World" (MBAW) series in San Antonio, presenting a variety of programs and styles including "Schubert's Birthday", "A Date with Rachmaninoff"," Women in Music", and "French Impressions." A Naxos recording of her performance of Lucas Foss's "Psalms" with the University of Texas Chamber Singers under conductor James Morrows was released July 2010. In December 2011, Dr. Gorina participated in a unique performance of Liszt's "Hexameron" for six pianists/twelve hands as part of "Golden Fingers and Golden Toes" for MBAW. Dr. Gorina's piano solo album "Magical Evenings" is available on Amazon.
In 2013, she organized the piano duet AleAnya with Anya Grokhovsky . The duet is gaining national recognition, including a Puerto Rican tour, collaborating with composers and choreographers to enrich the repertoire. In Summer 2018, the duet performed at a European tour. In her free time, Dr. Gorina performs community outreach concerts at schools and retirement homes, both as a soloist and as part of the ensembles.