Master's Concert Music Series present by Musical Connections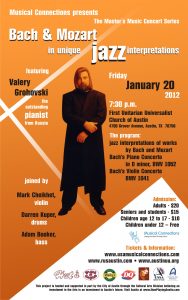 BACH & MOZART
in unique jazz interpretations

Friday, January 20, 2012, 7:30 pm
First Unitarian Universalist Church of Austin, 4700 Grover Avenue, Austin, TX  78756
PERFORMERS:
Valery Grohovsky – Piano
Mark Cheikhet – Viola, Violin
Adam Booker – Bass
Darren Kuper – Drums
Musical Connections presents The Master's Music Concert Series of Classical and Jazz music featuring the outstanding pianist from Russia Valery Grohovski,  joined byviolinist Mark Cheikhet, and local jazz musicians, Adam Booker, bass, and Darren Kuper, drums; all brilliant musicians with the rare ability to switch flawlessly from Classical to Jazz, and back again.
The program includes unique jazz interpretations of works by Bach and Mozart, as well as Bach's Piano Concerto in D minor, BWV 1052, and Violin Concerto BMV 1041.
Musical Connections is a non-profit organization and present this concert on Friday, January 20, 2012 in First Unitarian Universalist Church of Austin, 4700 Grover Avenue, Austin, TX  78756, beginning at 7:30 pm and lasting until approximately 9:30 pm.
Admission: Adults – $20 Seniors and students – $15 Children age 12 to 17 – $10 Children under 12 – Free
SPONSORS:
This project is funded and supported in part by the City of Austin through the Cultural Arts Division believing an investment in the Arts is an investment in Austin's future.  Visit Austin at www.NowPlayingAustin.com